Thank you to all our participants for another successful Conflict Resolution Conference! See you October 2018.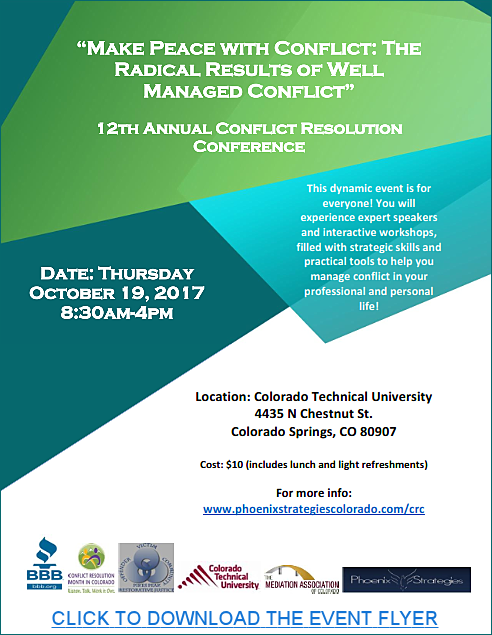 Contrary to popular belief, conflict is not the enemy. The truth is, conflict is often the best way to create intimacy and trust between people, not to mention its ability to generate creativity and fresh energy, strengthen leadership and loyalty, renew morale and motivation, increase productivity and financial stability and instill a healthy checks-and-balances that promote accountability within families and businesses. In fact, studies show that the most destructive approach to conflict is no approach at all; in other words, avoidance. Yes, conflict can be uncomfortable and sometimes downright painful but if effectively managed, it is a valuable asset in our private and professional lives.
The key is well managed conflict, which is why Phoenix Strategies, a conflict management business in Colorado Springs since 1997, has made this year's 12th Annual Conflict Resolution Conference theme, "Make Peace with Conflict: The Radical Results of Well Managed Conflict". We want to not only provide an educational opportunity that is relevant and accessible to everyone including attorneys, managers, but hopefully bring more peace to our community, region and state. The conference will offer dispute resolution workshops on practical skills and strategies for managing conflict in any venue, a customized break-out session, dynamic speakers in the field of dispute resolution plus opportunity to network with other professionals and community members.
For more info call 719-266-8181
12th Annual Conflict Resolution Conference Agenda "Make Peace with Conflict: The Radical Results of Well Managed Conflict"
8:15-8:45 a.m. Check-In (Continental breakfast served)
8:45 Welcome and Overview of a Dynamic Collaborative Conflict Resolution Model & Process (Monica Lichtenberger, MA, Phoenix Strategies Dispute Resolution Trainer and Certified Collaborative Mediator®)
9:15 Access to Justice: Sharon Sturges, J.D., M.P.A., Director, Colorado Office of Dispute Resolution, Court Services Division, State Court Administrator's Office
Sharon will present on how alternative dispute resolution can help address the access to justice needs now facing Colorado. Learn about the services and initiatives the Colorado Judicial Branch has made to address this pressing need!
10:30 Break
10:45 Break-out session – (choose one)
Relational Resolve – Presented by Jan Rodgers, Phoenix Strategies, MA Conflict Resolution, Trainer, Certified Collaborative Mediator®
Jan will present strategies on how to strengthen relationships in conflict to more effectively work toward resolution
-Or-
What do judges want from mediators? – Presented by Sharon Sturges
Sharon will present on how mediators can improve the drafting of memorandum of understanding (MOU) for parties and the courts. You will learn about judicial expectations for mediators, as well as receive tips and a checklist for quality MOU drafting.
12:00-1:00 Lunch (provided)
1:00-1:15 Book Drawing, Difficult Conversations (Stone, Patton and Heen)
1:15-2:15 Difficult Conversations – Presented by Carol Hess, Founder of Hess Gehris Solutions, Mediator, Coach & Attorney
Carol will explore some key concepts contained in the groundbreaking book Difficult Conversations. Learn why some conversations are inherently difficult; how to analyze what is at stake for the participants; how to turn conflicts into learning opportunities; when it is non-productive to engage in a difficult conversation
2:15-2:30 Break
2:30- 3:30 Help Can Hurt – Presented by Annie Cohen, M.Ed., Arc Mediation, Certified Collaborative Mediator®
Annie will discuss the negative consequences of evaluative/directive behaviors and explore strategies that can transform these behaviors into effective empowerment.
Sponsored by: Better Business Bureau; Colorado Technical University; Conflict Resolution Month in Colorado; Mediation Association of Colorado; Phoenix Strategies; Pikes Peak Restorative Justice Council
For questions, contact Monica Lichtenberger at 719-266-8181 or use our contact form.
CRC 2017 SPONSORS

---
Thank you to all our participants for another successful Conflict Resolution Conference! See you October 2018.