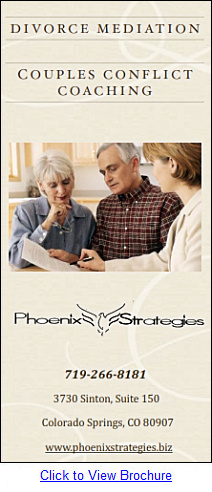 Phoenix Strategies understands the great difficulties and stresses involved with divorce and domestic conflicts.  If you are going through a divorce, have been court-ordered to divorce mediation, and/or have a domestic or family conflict requiring mediation, PSI can help.
If you would like to discuss your situation, and learn more about the process of divorce mediation, please give us a call at 719-266-8181 to schedule a free 30-minute consultation with a Colorado divorce mediator.  Since 1997, we have been helping couples, parents, children, and families just like yours, with sensitivity, dignity, and a commitment to collaborative relationships.
PSI's divorce mediators assist couples who wish to separate, legally separate or divorce, to reach agreements that foster goodwill and trust, while meeting their goals and needs. Mediation may occur at any time when couples are having conflict. Divorce mediation can be scheduled before filing papers for divorce, after filing, or any time before or after the final decree.
Separation agreements include:
Financial Issues (Asset Division and Debt Allocation, Taxes)
Parenting Plans (Parenting time, child support, decision making responsibilities
Maintenance (Also known as spousal support or alimony)
In addition Phoenix Strategies offers…
Couples Coaching & Marital Coaching – Assisting couples or individuals to:
Identify specific goals and form resolution action plans
Build relationships
Address trust
Improve communication
Conflict management and assessments
Divorce Coaching – Assisting couples or individuals in:
Understanding the divorce process and procedures
How to best prepare for divorce mediation
Conflict management through specific issues
Effective communication