"This was the best training I have ever attended. Monica is a great presenter, trainer and encourager. I am using the skills and confidence I acquired daily." Jim V., PhD, Licensed Psychologist
"I can't tell you how much the mediation training has helped in my ombudsman role. Thank you! I still want to take the Conflict Coaching." – Kimberly B., Ombudsman
Meet Phoenix Strategies' 100th Basic Mediation Class!!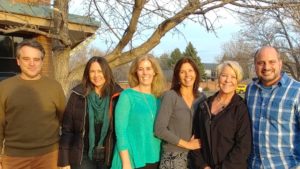 Join Phoenix Strategies for our 40-Hour Basic Mediation and Conflict Management training. This course is for anyone involved in conflict management on a personal and professional level. The 40-hour Basic Mediation course is the recommended minimum requirement for, and serves as your foundation to building a career as a mediator in the state of Colorado.
Learn to modify past learned behaviors, develop basic essential skills, and effectively mediate with minimal mentor support through integration of theory and practice, modeling, exercises, and simulations, and self, peer, and instructor evaluation and videotaping.
Continuing Legal Education (CLE) and ethics credits are approved and available for legal professionals participating in our Basic Mediation and Divorce Mediation courses. Please contact Phoenix Strategies for additional information. CLE's approved by the Colorado Supreme Court.
COURSE OBJECTIVES
Participant will learn about…
Conflict Origins
Mediation Models History
Mediator Roles
Case Management and Forms
Appreciative and Empowerment Strategies and Techniques
Interest-Based and Position-Based Negotiation
Communication "I" Messages, Active Listening and Non-verbals
Problem-Solving, Interest-Based Mediation Process
Memorandum of Understanding (MOU) Writing
Ethics and Diversity
Statutes that govern mediation practice
Unauthorized Practice of Law
Mediation Business and Career-Next Steps
Prerequisite: Minimum high school diploma or equivalency (GED).
40 classroom hours / 5 days
Course is offered several times a year at both our Colorado Springs & Denver locations.
Please see the event calendar for upcoming dates.
Please see the PSI course catalog for full course and program details, including entrance requirements, enrollment agreement, tuition & course fees, maximum class size, and more. For course registration & tuition payment details, please visit our Registration & Payment page.
As always, if you have any questions, we invite you to contact us.
"Practical application, evaluative, feedback and a safe, positive environment, really made this course stellar" – Tamara E.
"Worth every penny and more. Indeed it was a 'life changing' experience for me to be in your class…For this, I am eternally grateful." – Debra L.