Join PSI for our 3-day class in Faith-Based Conciliation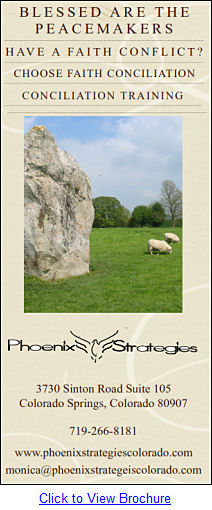 COURSE OBJECTIVES
Differentiate between mediation & conciliation
Explore the nature and different levels of conflict
Examine four faith-based principles that form the foundation for Faith Conciliation
Discern how your beliefs may affect your role as a conciliator
Identify collaborative, facilitative, interest-based strategies and techniques
Clarify six conflict manager roles
Gain insight into case management
Experience coaching, conciliation, dialogue and appreciative inquiry processes
Integrate Triple-Loop Learning into the coaching process
Discover how to prepare participants for faith dispute resolution processes
Identify support needed to address apologies and forgiveness and success indicators
Recognize systemic church or organization's role in conflict
Participate in interactive role-plays and scenarios relevant to faith-based situations
Be familiar with different church governance models and decision authority
Prerequisite: 40-hour Basic Mediation course from PSI or any other training organization.  A waiver of prerequisite is available for qualifying candidates.  Please see the "Waiver of Prerequisite Request" form in the PSI Course Catalog (linked below) or contact PSI at 719-266-8181 for additional details.
24 classroom hours / 3 days
Please see the event calendar for upcoming dates.
Please see the PSI course catalog for full course and program details, including entrance requirements, enrollment agreement, tuition & course fees, maximum class size, and more.  For course registration & tuition payment details, please visit our Registration & Payment page.
As always, if you have any questions, we invite you to contact us.