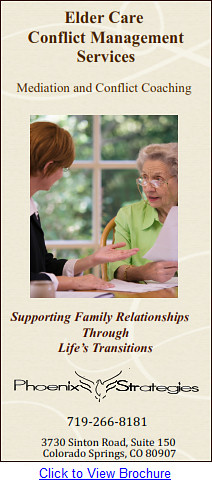 PSI's Elder Care Mediation  and Conflict Coaching Services are designed to help support & strengthen family relationships through life's transitions.
It is our desire to help you…
Strengthen relationships
Move beyond past hurts to future solutions
Maximize elder's safety and independence
Feel heard, valued, understood and appreciated
Strategize optimal solutions for diminishing physical, cognitive or decision-making
Address workplace age discrimination
Clarify family roles and goals
Resolve "driving" issues
Work out "living together or apart" arrangements and roles
Assist with in-home or out-ofhome care issues between family and/or agencies
If you feel you or a loved one has a need for elder care mediation or your family could benefit from conflict coaching services, we invite you to contact us for a free initial consultation.   We're here to help.