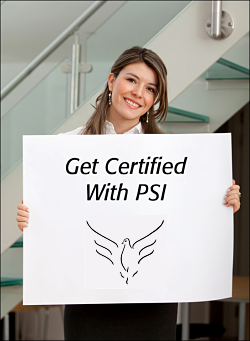 Interested in mediator certification? Phoenix Strategies certifies mediators who demonstrate mastery and proficiency in collaborative, interest-based, facilitative mediation.
PSI makes no claim that certified mediators will practice within the collaborative, facilitative model at any given time or mediation. PSI's certification acknowledges that students have been evaluated and demonstrated knowledge and skills regarding the mediator role in the collaborative, facilitative, interest-based mediation process:
Prerequisite requirements:
A Bachelor's degree from an accredited college, or a minimum of 1800 clock hours of training and experience in alternative dispute resolution, communication, problem solving, conflict management, mediation, facilitation, negotiation, coaching or a combination.
A minimum of 100 hours of mediation related experience to include 30 mediations of actual mediator experience.
Certification applications must include a 60 minute video that is an unedited and unscripted (Interest-Based, Facilitative) mediation role play ending in a written memorandum of understanding (MOU) / agreement.
A two page essay of the video analysis.
An interview with an evaluator.
All awards of certification are subject to the review and approval by the School and its faculty.
Click here to download PSI's Certification Application.
CERTIFICATION PAYMENT
To pay for your certification by credit card or PayPal account, please fill out the form below. You do not need a PayPal account to use a credit card. NOTE: You should only pay AFTER your certification application has been approved, and Phoenix Strategies has requested payment.
PSI offers two certification prices:
Phoenix Strategies alumni, who graduate from PSI's 40-Hour Basic Mediation course. $525 + $30 materials fee ($555 total).
Non-alumni who took their Basic Mediation training elsewhere. $695 + $30 materials fee ($725 total).
If you don't know which to choose, or have have any questions at all about the process, or would like to arrange an alternative form of payment, please call or email.