Interested in the fast growing field of restorative justice (also known as reparative justice)?  Join Phoenix Strategies for our 3-day course!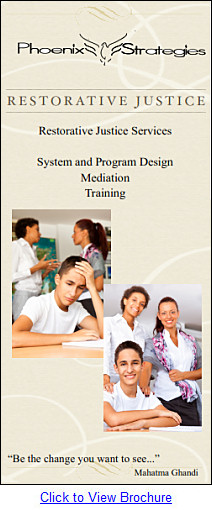 COURSE OBJECTIVES
Gain insight into personal perspectives of victims and offenders
Be familiar with the historical movement of Restorative Justice
Understand victim rights
Learn differences between the traditional legal process and restorative justice philosophies
Realize the benefits for victims, offenders and the community
Differentiate between guilt and shame
Experience various restorative justice practices
Identify case sources
Learn case management
Know critical indicators for determining appropriateness for conferencing
Experience one-on-one sessions with victims and offenders through role-play
Experience facilitating the conferencing process
Use strategies and interventions to support appreciation and accountability
Discuss common ethical dilemmas and approaches
Prerequisite: 40-hour Basic Mediation course from PSI or any other training organization.  A waiver of prerequisite is available for qualifying candidates.  Please see the "Waiver of Prerequisite Request" form in the PSI Course Catalog (linked below) or contact PSI at 719-266-8181 for additional details.
24 classroom hours / 3-days
Please see the event calendar for upcoming dates.
Please see the PSI course catalog for full course and program details, including entrance requirements, enrollment agreement, tuition & course fees, maximum class size, and more.  For course registration & tuition payment details, please visit our Registration & Payment page.
As always, if you have any questions, we invite you to contact us.